Vietnam in the top 10 countries worth living with foreigners, why?
Up to 8 places higher than last year, Vietnam has entered the top 10 best countries for foreigners to live and work for the first time, according to the recently released HSBC Expat 2019 report. What makes Vietnam attractive to foreigners?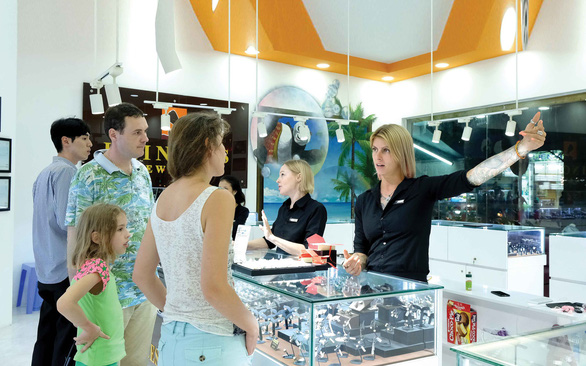 HSBC's 2019 rankings are based on feedback from more than 18,000 expats living in 163 countries and territories. In particular, Vietnam is considered an easy place to establish a new life, a stable economy, a good opportunity for career advancement, especially a high balance of life and ultimately the life of people. Dear…
Tuoi Tre acknowledges the opinions of experts and foreign citizens who are living and working in Vietnam on this ranking.
* Micka Chu (French actor, screenwriter):
Great destination for those who want to start a business
For more than three and a half years living and working in the entertainment industry in Vietnam, a lot of great things happened to me when I participated in game shows, fashion shows … and visited famous places in Vietnam. Vietnam. Now, I want to live permanently in Vietnam. I study Vietnamese, travel to many places in the country, have Vietnamese boyfriends, I am very attached to Vietnamese culture, people and country.
Therefore, I am not surprised at all when Vietnam enters this list. Because in recent years, I have seen a strong development in Vietnam, with many opportunities for young people, entertainment is an example.
I think Vietnam is a very good destination for those who want to start a business or professionals, because the opportunity to open their own company is not too difficult.
The weather in Vietnam is very good, especially in Saigon. You have summer forever here. This is a pleasant change, especially for Europeans who are tired of the winter cold. Moreover, Vietnamese people are very kind, welcoming and open to foreigners. They like to learn English and work with us.
However, in order to attract and attract more foreigners, in my opinion, Vietnam should have policies that allow foreigners to buy houses and own forever, instead of the current 50 years. I hope the laws in Vietnam will be more stable so that foreigners can buy houses, start businesses and live permanently.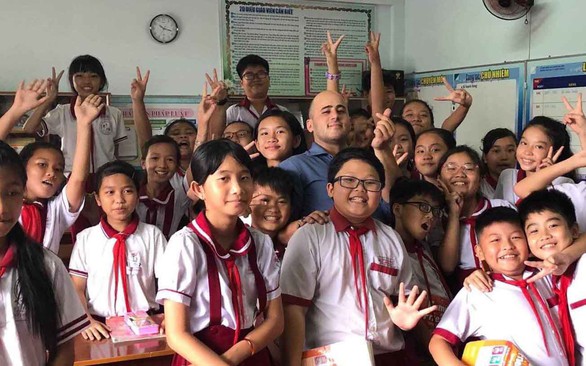 Raphael Galuz, French, and his English class students at an elementary school in Hoc Mon district, Ho Chi Minh City. Raphael has been in Vietnam for nearly 3 years – Photo provided
 *Mr. Ben Mawdsley (Canadian "ambulance knight"):
To Vietnam is my destiny
I was really in debt with this place more than 3 and a half years ago. I had a job in Japan, so when I first came to Ho Chi Minh City, I was assigned to stay for 6 weeks to teach English and take the TEFL certificate, before returning to Japan to work.
But after living in Saigon for a while, I realized that this is where I want to stay, work and stay for a long time.
I was afraid of the "luxurious" places that like the living space in a small alley, street food, like to drink beer on the sidewalk, like to poke around in small alleys, small streets of Saigon and the places where people live. affordable. In general, I like the rural areas and the open, friendly locals.
I have a private business and private education for some families. The rest of the time, I devoted to volunteering. Free English classes every Sunday. Each month a class teaches first-aid knowledge and skills to victims. It can be said that coming to Vietnam is my fate. I love Vietnam and will settle permanently in Vietnam.
* Mr. Stivi Cooke (Australian, living in Hoi An, Quang Nam):
I have "fallen in love" with Vietnam
In 2005, I came to Vietnam for the first time and fell in love with Vietnam so I came back. And after 13 years living here, I still love that intact. I live in Hoi An, which is a semi-rural and semi-urban area less than 30 minutes from my home but also has modern beaches, mountains and shopping.
Although there are also limitations, the advantages are much greater. Apart from traffic and noise, I found it a peaceful place. From kids playing in the yard, to men having dinner early after work or weekend outings with kids on the beach …, it reminds me of a previous life. Here, be calmer when I was younger.
It may take a while to get to know people and make friends. Even so, the people here are extremely friendly and have no xenophobic views with foreigners.
In terms of cost of living here, it's much better in the world compared to the same standard of living and that also includes the idea of ​​retirement now. The best part I guess is relieving stress on me.
Not having to travel long distances to work, not having too many laws to follow and also having less trouble with both culture and neighbors … I think Vietnam is still a little treasure. known.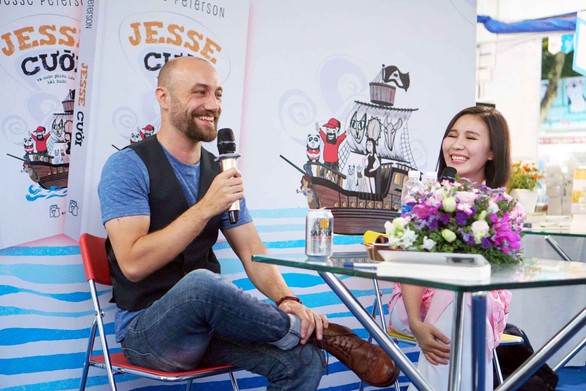 Jesse Peterson is a Canadian who has lived and worked in Vietnam for 9 years. He chose Vietnam for fun and wants to explore Vietnam more – Photo: QUANG DINH
* Lawyer Phung Anh Tuan (VCI Legal law firm):
The hospitality keeps foreigners
There must be a base, Vietnam is the place where foreign experts choose to live. Consulting and working with many foreigners in Vietnam, I find that most foreigners are really satisfied with their life here, feel happy and have a few decades of experience in Vietnam.
Most expats say they have found a good job in Vietnam, getting more comfortable life support benefits than other countries if in the same position.
With such treatment, this is a paradise for foreigners while the cost of living is quite low. Meanwhile, the legal system, the stability of Vietnam's economy recently also helped Vietnam become friendly, safe for many foreigners, so they trusted and chose to live, work long term.
Previously, foreigners working in Vietnam were mainly in the group of experts and senior personnel such as executive directors, financial directors of international corporations, multinational companies … In recent years, job opportunities have expanded for many levels, in which young foreign workers have come to Vietnam more and more.
This is understandable when Vietnam is a bright destination for foreign investment flows. But most importantly, the friendliness and openness of the Vietnamese people. While the trend of "nationalism" is emerging, some countries are considered more conservative, the Vietnamese still retain a friendly and hospitable culture that still has its own identity.
* Assoc.Prof.Dr. Trinh Hoa Binh (former director of the Center for Social Opinion Investigation, Vietnam Academy of Social Sciences):
Should continue to correct the inadequacies
What Vietnam is doing shows stability, showing a country ready to live peacefully with nations. However, the above evaluation results are still favored for Vietnam. Most focus on "formal" indicators such as cost of living, creation of new jobs, beautiful nature, and friendly people.
Meanwhile, Vietnam still has many issues that need to be adjusted and renewed to become a truly livable nation. For example, the situation of traffic safety, food hygiene and safety, security and order are still messy and inadequate. Business environment still has many "minus points" because of cumbersome administrative procedures and harassment. The attraction of high quality labor resources from other countries is limited.
Therefore, it is fun but should not be too optimistic, but it should be seen as a milestone to continue promoting and strengthening the strengths of social and economic life … Especially, must continue to change. new, adjusting inadequacies to make Vietnam become a worthy destination for intellectuals, experts and attracting the brainwaters of countries to work and live. At that time, Vietnam was the real place to live. In contrast, Vietnam is only a place for tourists to travel or stop for a short time and then go.
* Mr. Vu Minh Quang (Vietnamese ambassador to Cambodia):
Must let Vietnamese people also feel happy
I am not surprised that Vietnam is in the top 10 countries worth living with foreigners according to the rankings of HSBC. I even believe that Vietnam is a country worth living with the majority of Vietnamese people, as many people say "if you have money, it is the best in Vietnam".
So I think the most admirable thing after this title is how to make Vietnam a country worth living with Vietnamese people and Vietnamese people to feel happy in their own country.
* Mr. Vuong Duy Bien (former Deputy Minister of Culture, Sports and Tourism):
Opportunity to attract more visitors
The title of the top 10 most liveable countries for foreigners of Vietnam by foreigners themselves is a joy for Vietnamese people. I have traveled to many countries around the world and realized that Vietnam is so beautiful with its rich nature, beautiful four-season climate, diverse culture … offering a rich choice for many different living needs. .
Whether you are visiting Vietnam for a few days or a foreigner coming to live and work in Vietnam for a long time, you will feel very satisfied. This title is an opportunity for Vietnam's tourism industry to gain momentum as well as the goal of increasing international visitors. But it is at the same time a reminder to the Vietnamese people of Vietnam to know what their strengths are to continue promoting, join hands to protect the environment, preserve the beautiful nature and realize what we still need. overcome, cultivate, repair to perfect.
Vietnam is among the top 10 countries worth living with foreigners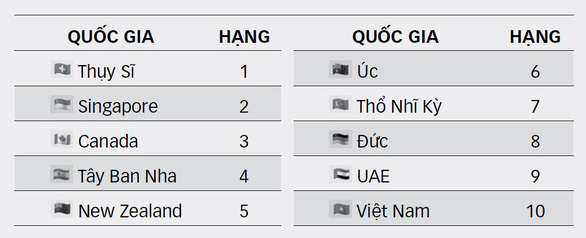 Top 10 best countries for foreigners to live and work in the world, as announced by HSBC
Up to 8 ranks, Vietnam is ranked the top 10 best countries for foreigners living and working in the world for the first time, according to the recently released HSBC Expat 2019 report, based on feedback from more than 18,000 Foreigners come to live in 163 countries and territories.
Factors that Vietnam is highly appreciated for are easy to establish a new life, stable economy, good career promotion opportunities, especially the high life balance factor and ultimately the life of people. Friendly … In addition, Vietnamese people are considered to be approachable and easy to make friends while the learning conditions and schools are quite good.
In particular, the promotion opportunity index is ranked 3rd, a good place for families to rank 20 and a place worth living for to be ranked 10th, the overall score helps Vietnam to reach the 10th country in the ranking of places worth living for. and work for foreigners.
According to the report, many foreigners in Vietnam are enjoying a good lifestyle without being too expensive. The biggest expenses they may have to pay are rent, tuition and restaurant. Travel, telephone and Internet costs are quite cheap. If you know how to enjoy Vietnamese food, the price may be even better.
The survey also gives advice if living in Vietnam, foreigners should take every opportunity to explore and travel in Vietnam to enjoy truly enjoyable vacations. The report also commented that Vietnam is growing rapidly and the business environment here is very active, although it is still somewhat limited by outdated values ​​or cumbersome administrative procedures.
Looking back on the process of assessing Vietnam in recent years, HSBC's data also shows that the image of Vietnam in the eyes of foreigners is having positive changes.
From the reason for choosing Vietnam simply because of its delicious food, low cost of living, beautiful scenery, and many places to explore, nowadays, foreigners also see Vietnam as an opportunity to have good jobs and income. Stable if not high.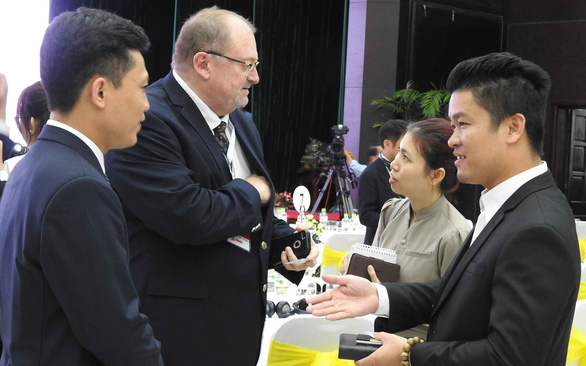 Foreign investors who invest and live in Da Nang often meet with city leaders to discuss many issues – Photo: V.HUNG
* Mr. Huynh Duc Truong (Director of Danang Department of Foreign Affairs):
Vietnam is very friendly
After many years of interacting with foreigners living and working in Vietnam in general and Da Nang in particular, I have learned that they consider the living environment here to be very friendly and convenient, easy to integrate and integrate.
In particular, in recent years, Da Nang City has focused on attracting investment, creating favorable conditions to attract capital, thousands of foreigners come to invest, work and do business in this city. Many foreigners and foreign business people who are living and working in Da Nang have expressed their satisfaction.
However, many foreigners also openly proposed many issues to improve in order to make the living environment in Danang better, becoming a destination that attracts many foreigners to invest, choosing to live.
* Mr. Cao Tri Dung (Chairman of Danang Tourism Association):
Suitable living environment
The majority of foreigners living in Vietnam as well as in Da Nang are entrepreneurs, experts working on projects to attract FDI. Through many years of contacting and working with foreigners, they rated the city as a reasonable, attractive and attractive place to live due to the living, working, ecological, procedures and residential communities. Economic, income … very suitable for many foreigners.
I see more and more foreigners renting houses to live in Danang and they evaluate the procedures and living conditions in Vietnam very well. If the management of visas and immigration is better and more open, I believe that more and more foreigners choose Da Nang to invest, live and want to stay for a long time.
TTO