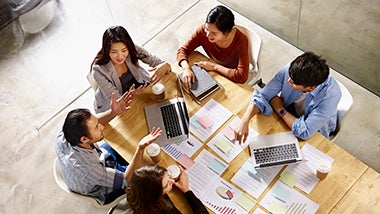 INFORMATION TECHNOLOGY CANDIDATES' SALARY OVERVIEW
Software developer with Blockchain or Artificial Intelligence (AI) expertise are receiving the highest salary
According to specialty-based salary statistics, engineers with new technologies knowledge such as Blockchain and AI are receiving the highest salary and higher than other specialty groups. Accordingly, engineers that develop software related to Blockchain received an average salary of USD 2,241, followed by USD 1,844 for AI-related software, ranked 3rd is Full Stack with a salary of USD 1.642.
Solution architect receive the highest salary in term of job roles
In terms of job roles, the top 3 positions with the highest salary are Solution Architect with a salary of USD 1,753; Agile/Scrum Engineer with a salary of USD 1,500 and Project Manager with a salary of USD 1,372.
Most IT personnel have not received the desired salary
When surveying the current salary and the expected salary by job level, programming language, specialty,… most respondents agreed that they were receiving a lower salary than that expected. The lowest difference is about USD 300 and the highest is about USD 1000.
It is worth mentioning that Management-level engineers in Ho Chi Minh City expect a salary of USD 2,625, but only receive USD 1,550, which is a difference of about USD 1,075; The Front-end engineers in Hanoi expects a salary of USD 1,385 but is receiving a salary of USD 635, which is less than half of the expected amount and the difference is USD 750. Similarly, the case of receiving a salary of less than half of the expectation is the JavaScript language engineer with the expectation of USD 1,555 and actually receiving USD 725.
 BENEFITS & BONUSES IN IT INDUSTRY
More than half of the IT employees do not receive overtime pay
According to the survey, up to 59% of IT staffs have not received overtime pay, more than a quarter of respondents said they were unhappy with not receiving overtime pay.
IT human resources are not completely satisfied with the bonus policy of the companies
Top 3 bonus schemes being applied the most at companies are 13th month salary, accounting for 81% of surveyed opinions; Tet bonus accounts for 40%, and Project bonus accounts for 26%.
Nearly a half of respondents said they felt "partly satisfied" (40%) and "totally satisfied" (8%) with the current bonus policy, the rest felt normal and unhappy at different degrees. The dissatisfied group accounted for 20%, citing the reason because "Poor bonus value" and "Poor bonus types".
IT JOBSEEKER'S BEHAVIORS AND JOB CHANGE INTENTION
Online job portal is the most popular job-seeking channel
According to the survey, currently from entry-level employees to Manager level, mostly choose online job search site as a popular channel. This channel also allows them to successfully apply for job with the highest success rates compared to other channels such as Google Search, LinkedIn, IT communities on social media.
Salary is the main reason for job change in the next 6 months
When asked about the intention to change jobs in the next 6 months, up to 60% said they intend to change jobs. The main reasons are told by respondents is: To have a higher salary (accounting for 47%); Want higher career level (accounting for 15%) and Want to refresh the working environment (accounting for 10%)