Banking and capital markets trends 2019
Why banking and capital markets transformation is all about people, part of PwC's 22nd CEO Survey trends series
The sweet spot between technology, data and humanity
Emerging technologies are revolutionising customer intelligence, engagement and experience within both corporate and retail banking. Yet it's people who drive enterprise transformation and ultimately derive the value. This manifests itself in everything from the empathy and creativity to understand and meet changing customer demands to your workforce's readiness to embrace change and capitalise on the opportunities.
It's therefore concerning that so many of the 235 Banking and Capital Markets (BCM) CEOs taking part in PwC's 22nd Global CEO Survey believe that this vital human element of transformation is falling short. Nearly 80% see skills shortages as a threat to their growth prospects. Their ability to innovate effectively and provide a winning customer experience is suffering as a result.
As our report explores, putting people at the heart of successful enterprise transformation demands a new type of leadership – a 'tech-savvy humanist'. These leaders understand the potential of new technologies, how they knit together and how they align with strategic objectives, while recognising that successful BCM organisations are run by people for people. There is also a recognition that the key question posed by automation and artificial intelligence (AI) isn't what jobs will be replaced, but rather how job descriptions will change, how to ensure your people make the most of the time that is freed up and know how to use the technology in customers' best interests.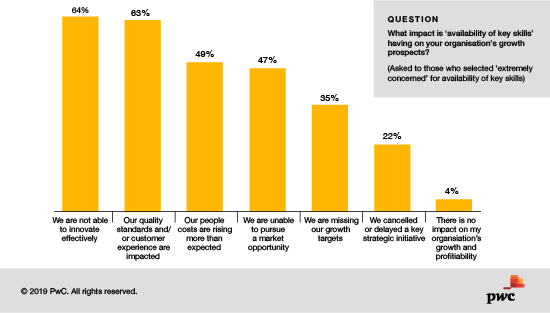 "The one thing we think our clients really need to spend more time thinking about is this interplay between technology and humans."